Galileo2: Radio Astronomy 20.1MHZ Receiver
Electronic Dice by Nina Gajjar

A Simple Direct Conversion 20.1MHZ Radio Astronomy Receiver
FD-Galileo2 is designed for NASA's Radio Jove project. Here is some basic information for your quick review.
NASA's Radio JOVE project is centered on the low cost radio telescope receiver, which can be used by science classes to collect planetary or solar radio astronomy data. Schools may opt to use other equipment to collect this data, but use of the Radio Jove receiver is highly recommended and provides good educational value to the students.
The radio telescope is intended for high school level classes, but may be appropriate for introductory college courses or advanced middle school students.
Galileo2 is a direct conversion 20.1MHZ receiver suitable for Jupiter noise measurement. Radio amateurs may use this tiny receiver on any of the amateur radio bands with little change in coil design.
Completed Galileo2 Receiver: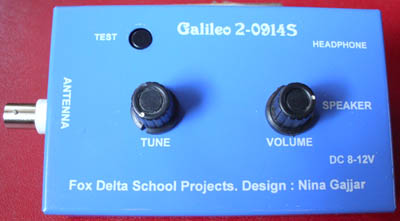 Click to enlarge
---
Galileo2 PCB TOP View: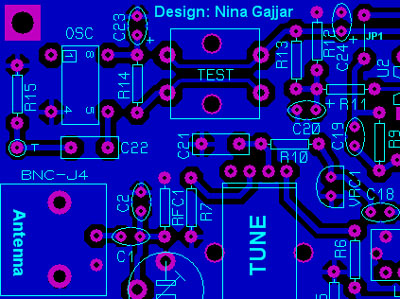 ---
Galileo2 Schematic: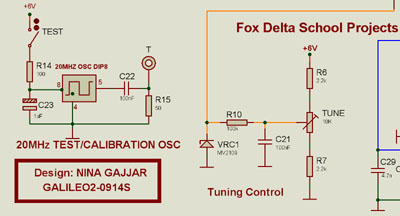 Click to View Full Schematic
Galileo2: Tech Info Document, Schematic and files:

Galileo2 Tech Info Document


Schematic & Kit Parts List


About Radio Astronomy


Want to make your own boards? here are Gerber files in RS274X for Single Sided PCB

Datasheets of Parts used in this Project

SA612/602


NE5534


LM386


MCP601


J309

Buy Kits online
Galileo2: Direct Conversion Receiver for Radio Astronomy


---
School Projects

Hamcom
Crystal Radio
FM Radio
PIC Clock
PIC Counter
Water Tank Controller
Metal Detector
Regulated PSU
Electronic Dice
VU Meter
Light Switch
Galileo2

Resources

Radio Theory
What is Amateur Radio
Radio Calculators
Ham Radio India
Gita in English
Language Translation
Yahoo Group

Galileo

Click to know him!!
Useful Links